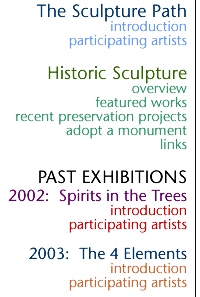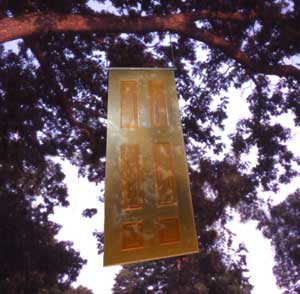 Portals, by Niho Kozuru
The 4 Elements: Earth, Air, Water and Fire
at historic Forest Hills Cemetery
A checkered picnic blanket made of grass...
A translucent door, glowing with sunlight, suspended in the sky...
A mysterious pattern of ripples on the surface of Lake Hibiscus...
A river of interwoven branches cascading down a rocky hillside…
During the summer of 2003, visitors to historic Forest Hills Cemetery encountered an adventurous exhibition of site specific installation and sculpture exploring the age-old theme of the four elements. An ancient formula, drawn from Greek philosophy and medieval alchemy, is given a new spin by 20 artists working in diverse materials. The exhibition – at times striking and at times subtle – wound through the landscape of historic Forest Hills Cemetery. A festive opening reception was held on June 22 from 3 to 6 pm. The exhibition ran from June 15 through October 31 and was free to the public.
Four of the works created for The 4 Elements will remain on display through October 31, 2004. They are:

Exhibition Description
Forest Hills is one of Boston's first and finest examples of landscape design, a romantic reworking of nature into a refined vision of paradise. Earth, air, water and fire (light) were all essential ingredients of this landscape, shaped by terraced overlooks, curving paths, sophisticated horticulture, and an ornamental lake. As a way to illuminate the constructed nature of this lush urban green space, the Forest Hills Educational Trust invited artists to explore the way that human culture reshapes the physical world in pursuit of beauty, order or meaning.
The theme of the four elements put the focus on materials, and the participating artists were inventive in their representations of earth, air, water and fire. They used both natural and manmade materials – sod, cement, rubber, gathered branches, pine needles, mechanical devices – in unusual combinations and juxtapositions which explored the interplay of nature and artifice, paradox and transformation.
The Trust convened an accomplished jury to review 170 design proposals received in the spring of 2003:
Elisabeth Alsheimer, a curator visiting from Sweden's internationally known sculpture park, the Wanas Foundation.
Nick Capasso, one of the talented curators from the DeCordova Museum and Sculpture Park in Lincoln, MA.
James Hull, an artist, activist and curator who founded the Gallery @ Green Street (Jamaica Plain, Ma) and the Boston Drawing Project at Boston's Bernard Toale Gallery.
Julie Moir Messervy, a highly regarded landscape designer.
The jury selected 20 selected artists to create 17 installations; several worked in collaborative teams. The Trust's director, Cecily Miller, worked with each artist to site the pieces on the 275-acre grounds. "One of the goals of the exhibition" explains Miller "is to engage visitors in active exploration and discovery. The route invites people into some beautiful, almost secret, areas of Forest Hills as well as its grand formal spaces, so rich with art and architecture. It's a fascinating environment for contemporary art, it's so fraught with meaning and history."
The artists were largely from New England, although Oregon and Virginia were also represented. Artists Frank Vasello, Thomas Matsuda, Larissa Brown, Jeanne Drevas, and Jeffrey Hayes created sculptural forms from natural materials ranging from gathered branches and pine needles to imported water hyacinths. The team of Daniel Bouthot and Christopher Ho, and landscape architects Kaki Martin and collaborators Susan Child and Chris Alonso inscribed their designs directly into the earth by planting patterned sod, rosemary beds, and a long line of lime mixed with rye seed designed to illuminate the varied topography of the cemetery.

Others artists introduced foreign materials to the landscape. Niho Kozuru and Danielle Krmar recreate domestic objects in unexpected materials (translucent rubber, cement) imparting a touch of the uncanny to the familiar. Sean Langlais and the team of Winslow Burleson and Chris Verplaetse used technology to generate mysterious effects with no apparent source, traces of sound in the air or movement in the water. Amy Stacey Curtis uses a simpler technology, placing an array of circular mirrors on the ground of a pine forest to magically bring air and light to earth.

Another group of artists captured ephemeral phenomena in durable materials. Mark Winetrout combined an archive and a cabinet of curiosities in his collection of ephemera and artifacts gathered from the grounds and preserved in a glass topped museum case. Kathleen Driscoll constructed a monumental water spill using wood, hydrocal and burlap. Stacy Latt Savage assembled interrelated sculptural forms inspired by the structural patterns of cracking mud or frost. Nancy Murphy Spicer brought her distinctive paint pours to an outdoor setting; she used ordinary latex house paint to create forms which are part sculpture, part drawing.

The exhibition revealed the many ways that artists of the 21st century can make their own mark on a 19th century landscape. Like the founders of Forest Hills, they used imagination, intellect, and technical skills to reshape the physical world and our experiences within it.
The 4 Elements was made possible through grants from the Boston Foundation, the John H. and H. Naomi Tomfohrde Foundation and an anonymous funder.

Forest Hills Cemetery is located one block from the Forest Hills T Stop on the Orange Line via the Tower Street pedestrian entrance. It is one mile past the Arboretum on the Arborway/Route 203, and there is plenty of free parking. A guide to the exhibition, including a map and artists statements, is available at the map stand at the Main Entrance.
Directions and a complete calendar of events are available on this site, or call 617.524.0128.