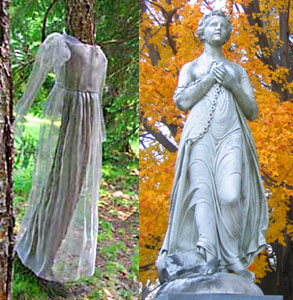 Nightshirts, by Leslie Wilcox, and the Bangs-Nye Memorial (anonymous)
Forest Hills Cemetery
Historic masterpieces and adventurous contemporary art

Long before Boston had public parks, Forest Hills Cemetery was created to offer visitors a special place where they could enjoy a magnificent landscape while remembering friends and family. Sculpture became an essential feature of this environment, as people commissioned local artisans or prominent artists of the time to create individual and family memorials. No visit to Victorian Boston was complete without a trip to Forest Hills to see the latest in fashionable art and architecture.
All of what we now perceive as historic sculpture was contemporary in its day. The Trust began exhibitions of contemporary sculpture and site-specific installation work to revive the 19th century practice of engaging artists to design work for this unique landscape. The Contemporary Sculpture Path is an ongoing exhibition of sculpture laid out along a one-mile route which meanders through the Cemetery grounds. The Trust's 2006 exhibition is Dwelling: Memory, Architecture and Place, has been extended until November 30th, 2006..
Photographs and artist statements from past exhibitions are archived on this site.