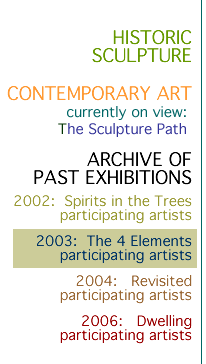 The 4 Elements

Kathleen Driscoll
Column One: Falling Water
2003
Wood, Hydrocal®, burlap

Artist's Statement
While walking in the cemetery, exploring areas to build a sculptural work, I was inspired by the draped urns, monuments and sculpture. Across from my sculpture are The Angel of Peace, an extraordinarily draped figure by Daniel Chester French, and a tall column topped by a draped urn.

To drape means to cover, adorn or arrange with folds. To shroud means to cover for protection or to conceal from view. To make Column One: Falling Water, I draped a columnar form, mimicking water, to approach ideas about nature and life, the inanimate object, and the relationship of that object to the space around it.

Water has been a theme in my work for over twenty years. The cemetery is where life ends and water is where life begins. Into the earth or air we go; out of the water we begin. By making this sculpture, I hold the flow of water still, so that we can look at its structure and contemplate its force.