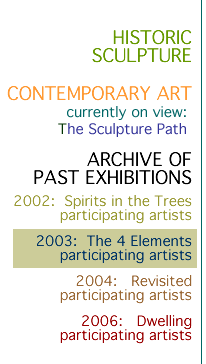 The 4 Elements

Jeanne Drevas
Earth, the Spiral
Pine needles, bird netting

Artist's Statement
Just as birds, mice and beavers use the materials around them for their nests, I use what I have always known, the gleanings of the forest and fields of the Piedmont area of Virginia. The processes of gleaning and re-use seem to me practical, familiar, economical, natural.

My work helps pull me back into what I, and most people, have left behind: existing in nature. My senses spend days immersed in the hues and perfection of a thousand acorns, in the texture of tree bark, in the fragrance of mounds of pine needles. I take my humanness and listen to what each of these materials is telling me to do. It is a delicate balance, my DNA and theirs, my will and theirs.

The spiral is an archetypal form found in nature and in many human cultures to depict eternity.