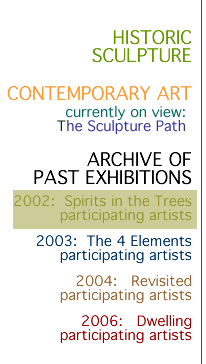 | | | |
| --- | --- | --- |
| Bark Balls by Carol Spack | | |
Before the Emerald Necklace, Forest Hills Cemetery offered the people of Boston a green sanctuary to escape the pressures of city life. Inspired by romantic ideals, Europe's great country estates, and his own passionate interest in an emerging American horticulture, Henry A. S. Dearborn designed this as a place to reconnect with nature and to remember our ancestors, families and friends.
The magnificent trees of Forest Hills define this spiritual landscape. Many are more than 150 years old; they have watched Boston's history unfold. Today, they form a living, breathing cathedral, their branches arching high overhead, their leaves softening the light. They offer an incredible variety of color, texture and shape in their leaves, flowers, seeds, branch structures and bark. A year ago, the Forest Hills Educational Trust invited artists to respond to these trees in ways that explore the powerful spiritual qualities of this site. Twenty three artists were selected by our jury to create site specific pieces, and the result is this rich and varied exhibition.

Forest Hills is filled with Victorian memorial sculpture representing nature, family, the spirit, and the inevitable, universal transition from life to death. The artists in this exhibition explore these themes with contemporary sensibility and materials. Some evoke family and cultural ancestors. Others enact rituals to connect more deeply with nature. Some celebrate the soul's journey; others, the cyclical nature of life – trees into soil, clay into earth. The presence of spirits around us, the flow of time, the importance of memory – these ideas recur and recombine, woven through the whole exhibition.
As you travel through this exhibition, we invite you to explore two dimensions brought together through these installations: the intangible world of myth, metaphor and memory; and the picturesque landscape of Forest Hills, with its hidden places, graceful monuments, intriguing carvings, and natural beauty.