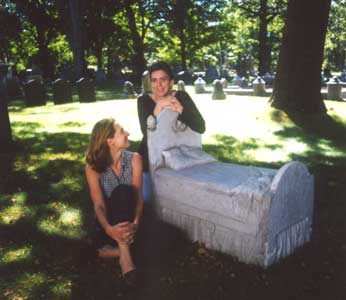 Artists Danielle Krcmar (seated) and Lisa Osborn (standing) with one
of their three "Resting Benches" created for the Sculpture Path.
Long before Boston had public parks, Forest Hills Cemetery was created to offer visitors a special place where they could enjoy a magnificent landscape while remembering friends and family. Sculpture became an essential feature of this environment, as people commissioned the great artists of their day as well as local artisans to create memorials. Today, Forest Hills is an open air museum, home to one of America's finest collections of Victorian sculpture.
While Forest Hills is an important historic site, it is not frozen in time. It continues to evolve in ways that reflect the spirit of contemporary society. Our Victorian sculpture collection was modern in its day, and the Trustees of Forest Hills have launched The Sculpture Path to welcome the work of contemporary artists into this unique setting. The Path leads from the oldest parts of the Cemetery to newer areas where burials still take place.
We plan to continue developing the Path over time, exhibiting contemporary sculpture which expresses the diverse interests and aesthetics of 21st century Boston, much as our older sculpture reflects the sensibility and ideals of the 19th and early 20th centuries.We invite you to explore and enjoy the many dimensions of Forest Hills — history, art, and nature — and to refresh your spirit in this beautiful setting!