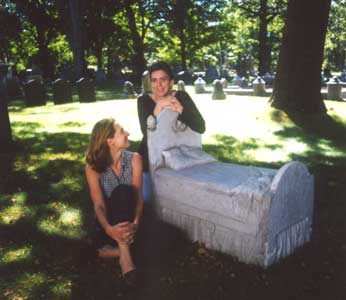 Artists Danielle Krcmar (seated) and Lisa Osborn (standing) with one
of their three "Resting Benches" created for the Sculpture Path.
CONTEMPORARY ART: The Sculpture Path
Established in 1848, Forest Hills was one of the first places the public could view art; Boston's Museum of Fine Arts did not open until 1870). It was also one of the city's first parks, designed 30 years before Olmsted began work on the Emerald Necklace. The Trust works to preserve the historic character of this grand Victorian landscape, so innovative in its day. However, we also recognize that this environment – which is also an active cemetery – is not frozen in time. It continues to evolve in ways that reflect the spirit of contemporary society. Our Victorian sculpture collection was modern in its day, and the Trustees of Forest Hills have launched The Sculpture Path to welcome the work of contemporary artists into this unique setting. The Path leads from the oldest parts of the Cemetery to newer areas where burials still take place.
Established in 2001, the Path is composed of a small, but growing, permanent collection and works on loan for a year or more. A list of artists, photographs of each work, and short artist's statements are available on this site.
We plan to continue developing the Path over time, exhibiting contemporary sculpture which expresses the diverse interests and aesthetics of 21st century Boston, much as our older sculpture reveals the sensibility and ideals of the 19th and early 20th centuries.We invite you to explore and enjoy the many dimensions of Forest Hills — history, art, and nature — and to refresh your spirit in this beautiful setting!
Thanks to our Generous Supporters
The Contemporary Sculpture Path is supported by contributions from individuals and grants from foundations, the Massachusetts Cultural Council, and the Boston Cultural Council, a municipal agency which is supported by the Massachusetts Cultural Council, a state agency.