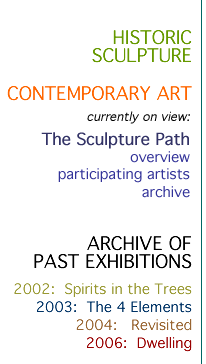 Lesley Davison
and Joan Goody
Breathing Room
2006
Boston, MA
Tree trunks, large timbers, painted aluminum hardware cloth, gravel

Artists' Statement
Visiting a cemetery offers a chance for reflection. We can dwell on the sadness of loss or remember and celebrate what an individual, now lost, once added to our life.

Arundhati Roy, in The God of Small Things, describes someone's death — Joe's, for example — as leaving a Joe-shaped hole in the universe. Death leaves a gap, an empty space in the world. A mausoleum holds remains and serves as a memorial, but it cannot fill the gap left by death; it brings to mind absence. We hope our "dwelling" will instead create a space of contemplation, a place to dwell on the time we had rather than the time we lost.

We were inspired by the mausoleums at Forest Hills, particularly in our use of the gabled roof. However, while those stone buildings are grounded and solid, we constructed ours to be ethereal and penetrable. The timbers at the base of our structure define the edges of the raked gravel floor of our room and echo the granite bars that surround family plots in many parts of the cemetery. The roof raises the eye in remembrance. Instead of the heavy grey weight of grief, we aim to inspire the thoughtful, upward gaze of memory.

We thank Peter Bogart and Ethan Kirmaier for their construction and installation services.
Commissioned as part of the Trust's 2006 exhibition, Dwelling.