A Scholar's Tour
of Selected Works at Forest Hills Cemetery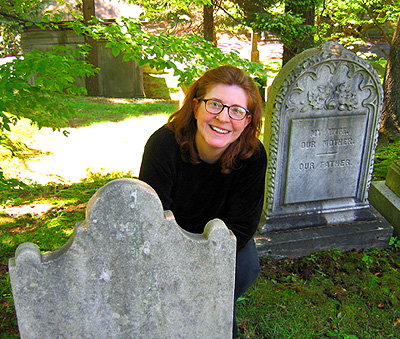 Elise Ciregna
In 2005, the Trust received a grant from the Massachusetts Foundation for the Humanities to underwrite a four-month Scholar in Residence program with cultural and design historian Elise Ciregna. Elise focused her work on researching the cultural meaning of selected memorials. She investigated how the cemetery's beautifully carved stones express and embody Victorian attitudes about family and social relationships, life and death, sentiment and fashion. She examined the cemetery as an extension of domestic space, a concept that offered 19th century Bostonians the comfort of a final home where the living could visit the dead.
Elise also looked at the ways the layouts and memorial furnishings of family lots echo the architecture and furniture of private homes. She researched several lots, and found that some are arranged in "neighborhoods" of family, friends, and business colleagues. Some of the results of her research are incorporated into this Scholar's Tour. We invite you to travel with Elise as your guide on a virtual tour of many of the historic treasures to be found at Forest Hills.
Start with the Introduction.