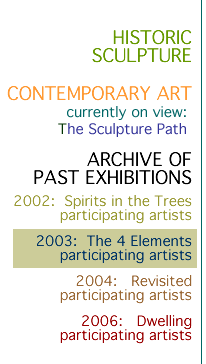 The 4 Elements

Mark Winetrout
Xuanxue
2003
Found Objects, wood, mirror, Styrofoam, paint, imitation gold leaf

Artist's Statement
Collecting, for me, lies at the heart of knowledge and art production. I believe it is a fundamental aspect of cognitive development and perhaps part of the underlying architecture of the mind. The act of collecting involves observation, selection, classification, identification of exemplars, arrangement, and memory. An aesthetic develops from the processes of organizing and discernment.

Through science, philosophy and art, humankind has continuously attempted to understand our world. At the dawn of western philosophy, the Greeks made contributions so important that we continue to employ them today: earth, air, fire and water as the basic elements of matter; opposites and compliments; cycles of generation and destruction. These explanations are more useful to most than quark, lepton, weak bosons, photon, gluon, and Higgs particle.

Let this piece be the start of a brief journey, a study of the mysteries, through the organizing influence of the four basic elements, into the beauty of the insignificant, memory, and the tranquil harmony of this place.


Return to List of Particpating Artists