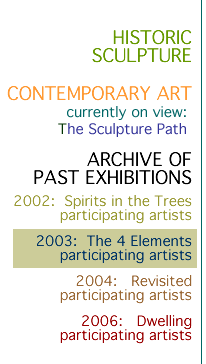 The 4 Elements

Nancy Murphy Spicer
Poured Paint on Bark
2003
Wood, latex and acrylic paint

Artist's Statement
I am interested in the way poured paint moves across and colors the surface of three-dimensional forms. Influenced by gravity, the paint flows over the boundaries and edges of an object and into the surrounding area, connecting the form with the space around it. The overflow dries and solidifies, creating an organic extension of the original shape.

To date, all of my poured paint work has been created in and for interior spaces. At Forest Hills, I extend this work into the natural world. Using wedges of wood as supports, I have poured paint down the bark surfaces, allowing it to pool and congeal on the ground beyond the edges of the wood. The movement of the paint is influenced by the organic quality of the wood bark and the earth.

An important part of my process involves setting up a situation, then allowing other elements (paint, earth, bark) to assert themselves and to effect the final outcome.