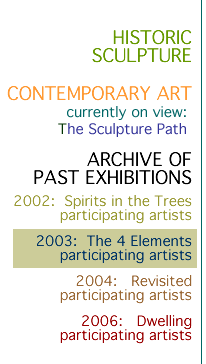 The 4 Elements

Thomas Matsuda
Enso
2003
Fire, wood branches, twigs, earth, air, water

Artist's Statement
In Zen painting, the Enso is a circle drawn with sumi ink and brush on rice paper. It represents perfection amidst incompleteness.

This is an Enso of fire, air, earth, and water. A circle is made of branches, lit on fire and extin-guished with water. The circle of fire is transformed into a circle of water/steam and air/smoke. Black charred wood and ashes remain.

The charcoal and blackened earth conjure up ideas of life, death, and rebirth, as well as the burning away of illusions and desires — a reference to the fierce deities of Tibetan Buddhism. They are also a reminder of war, destruction of the earth, and corruption within ourselves. Enso reveals the close relationship between purification and destruction.

Note: Please join Thomas Matsuda for the burning of Enso and a performance of classical Indian music and dance by the Triveni Ensemble on Sunday, July 20 at 4 pm; raindate: Saturday, July 26 at 6 pm. All are welcome; admission is free.