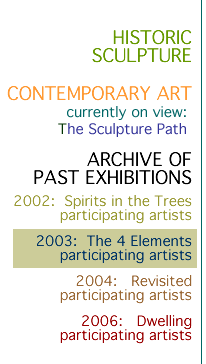 The 4 Elements

Niho Kozuru
Portals
2003
Cast rubber



Artist's Statement
Portals, hanging in the trees, can be interpreted as symbolizing the difference between the mortal world and the spiritual world. Although these worlds are distinct, many believe there is an overlap between the two. Portals alludes to an entryway where one may seek to travel, but also to a boundary that cannot be crossed, recalling the question as to what may be on the other side.

By working with colonial architectural elements, I transform their formal and original significance into newly altered structures and meanings. I suggest that, just as objects can be physically altered, people, too, can change their relationships to the past.
Return to list of participating artists.