FINDING VOICES IN THE SILENCE
Tracing the History of Boston's Black Community
at Forest Hills Cemetery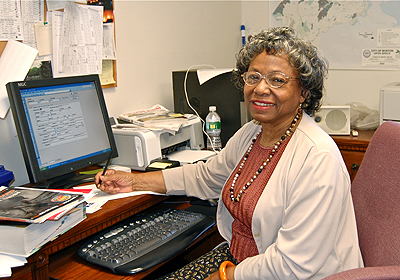 Sylvia McDowell researching at Forest Hills Cemetery
photographed by Sandra Larson for the Bay State Banner
Forest Hills Cemetery is not just a place of burial; it is a place where we remember people and tell their stories. Friends and family, notable people and inspiring leaders – the generations that shaped Boston history and our world are all represented at Forest Hills.
The Forest Hills Educational Trust is organizing a research project started by scholar-in-residence Sylvia McDowell to recover, record, and pass on the stories of African Americans buried at Forest Hills during its 160 year history. Our goal is to expand our existing picture of history to better reflect the rich history of Boston's Black community.
Unfortunately, much traditional history ignores the African American experience and the people buried at Forest Hills can no longer speak for themselves; the Cemetery is a silent place. Therefore, we need your help to identify people for our project. Please fill out a Nomination Form with your suggestions for people for the Trust to research – interesting individuals you know to be buried here at Forest Hills. These can be ancestors, friends, artists, musicians, local business people, pioneering professionals or community leaders. Share highlights from their life stories. Through your participation and your memories, we can "hear" the voices of African Americans interred at Forest Hills once more.
Sylvia McDowell
Sadly, Sylvia herself passed away in March of 2010 after a brief illness. We are grateful to have worked with her for a year, and for the wonderful work she accomplished. Sylvia was a good friend, gracious colleague, and inspiring leader. We will miss her generous spirit. Several historians have agreed to carry on her work: Kerri Greenidge (author of Boston's Abolitionists), Dee Morris (who has developed many fascinating tours of Forest Hills) and Sylvia's good friend, Elaine James (like Sylvia, a retired librarian with a long history of community activism). You can read about some of Sylvia's discoveries here, and you can still nominate people for the project.
Nomination Form:
We also want to hear your ideas about what makes a person "prominent" – did they lead a volunteer effort, start a community organization or run a school? Succeed through a pioneering education or career? Advocate for better conditions in their neighborhood?
We plan to use the information we collect through these Nomination Forms to create new educational materials and tours for visitors, and we will preserve these Nomination Forms in the Trust's archives for future projects. You can fill out as many forms as you like. Thank you for your support and participation!
You can contact Cecily Miller directly with questions or suggestions. You can submit your completed Word or PDF Nomination Forms by mail, email or fax (see below).
Mail completed Nomination Forms to:
Finding Voices Project
Forest Hills Educational Trust
95 Forest Hills Avenue
Boston, MA 02130
Email completed Nomination Forms to:
Cecily Miller
Fax completed Nomination Forms to:
617.983.2539