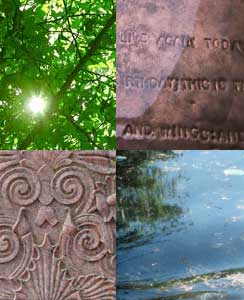 Guidelines for Artists
Thank you for your interest in Forest Hills. We are currently planning THE FOUR ELEMENTS, our exhibition for summer, 2003. The Call to Artists is below and proposals must be POSTMARKED March 3, 2003 (NOT March 1).
The next (and final) walk through for interested artists will be Saturday, February 15th at noon. We will meet at the Main Gate. In the event of heavy snow we will meet the next day, February 16, at noon.
Guidelines for artists to apply for the Sculpture Path will be ready in January, 2003.

THE FOUR ELEMENTS: CALL TO ARTISTS
The Forest Hills Educational Trust invites artists to participate in THE FOUR ELEMENTS. This juried outdoor exhibition will consist of temporary installation work and sculpture set into the landscape of Forest Hills Cemetery, a magnificent 19th century garden-style cemetery and arboretum in Boston, MA. The exhibition is scheduled for 6/15/03 to 9/30/03. We invite artists to develop proposals which imaginatively explore materials and/or concepts associated with earth, air, fire and water, as well as other themes evoked by the cemetery setting such as history, memory, and the mysterious world of the spirit.
Forest Hills has become Boston's newest venue for adventurous outdoor exhibitions of site specific installation and sculpture. Spirits in the Trees, our summer 2003 exhibition, attracted over 7,000 visitors and generated very positive media coverage. The Four Elements will open with a gala reception featuring live music and performance art. The Trust will also organize artists' talks and other special events during the exhibition. We will produce a free guide to the exhibition (which will include a map, photographs and short artists statements) available for visitors as well as document the exhibition on this website.
The Theme
We envision artists working with one, several or all of the four elements, interpreting them imaginatively. For example, "air" might be represented by sound moving through the air; "fire" might be referenced through color, light or perhaps projected images; "earth" can encompass both living things – trees, plants – and stone, metal, mud, etc. Earth works, sound installations, and sculpture using natural materials (either gathered on site or brought in) are encouraged. Please note we cannot provide electricity.
Artists may also be interested in incorporating other themes evoked by the cemetery setting, such as memory (and the erosion of memory), identity, family, ancestors, reincarnation, life after death, and the human hope underlying memorials – to hold on to what is gone, to give form to something which is absent. Past installations have also alluded to the lives or work of individuals buried at Forest Hills, such as ee cummings and Anne Sexton. Many 19th century social reformers and progressive activists, spiritualists, scientists, entrepreneurs, artists and civic leaders are also buried here.
This exhibition theme offers the opportunity to explore the vision of the natural world embodied in Forest Hills' romantic and ornamental landscape and the contrasting "wilds" – the undeveloped woods that border the manicured grounds. We are interested in how art can represent, or embody, or be framed by nature. We are also curious about the following questions: What kind of access can we gain to nature and its deeper meanings through art? What kind of "nature" is found in a cultivated garden, a man-made evocation of paradise? And what kind is encountered in the woods, the archetypal liminal area of adventure, mystery and transformation? How do the elements combine and recombine to create the endless variations of the physical world?
Siting
Work can be sited in beautiful groves of stately pines, rougher forested areas, and amongst rocky outcroppings and ledges edging the grounds. The more formal areas of the grounds are possible as well, as long as works do not infringe on gravesites. The 275-acre grounds include winding paths and scenic overlooks, horticultural features and an ornamental lake. "Neighborhoods" mirroring 19th century Boston social relationships are filled with bronze, marble and granite memorial sculpture and headstones inscribed with messages and symbols. Eclectic architecture abounds, including Greek, Egyptian, Gothic, and Art Deco styles.
We recommend artists visit Forest Hills before submitting their proposal, either during the walk through or on their own. The proposal can include a specific location or indicate the type of space which the artist would use; exhibition staff will assist artists in finalizing their location after acceptance. All sites must be approved by the Educational Trust.
Proposals should be sensitive to the fact that Forest Hills still actively functions as a cemetery.
Artists' Walk Through
Due to the exhibition time-line we will have to offer an artists' walk through during the winter, and the grounds look quite different in the summer months. However, artists can still get a sense of the exhibition area and terrain. Weather permitting, we will therefore hold a walk through on Saturday, January 25 (snowdate: Sunday, January 26) at 11 am – dress warmly! We will repeat the walk through on February 15 at noon.
Stipends
Selected artists will receive $300 to $600 stipends. Installations must be durable enough to survive 3.5 months, during which time heavy rain and winds are common. Jurors are Nick Capasso (Curator, DeCordova Museum and Sculpture Park), Julie Moir Messervy (Landscape Designer) and 1-2 others to be selected.
Application Process
Our application form is available here as a PDF. You will need Adobe Reader 5.0 to open it, which is available for free at Adobe's website (www.adobe.com/acrobat). You may get a message indicating that your browser (Netscape or Explorer) "does not know how to handle the type of file you selected" – just ignore it and select "SAVE FILE AS" and save the file to your desktop.
Submit the completed form with the requested materials by March 3, 2003 (postmark date) to: Exhibition Committee, Forest Hills Educational Trust, 95 Forest Hills Avenue, Boston, MA 02130.
If you are unable to download or open the form, please request a microsoft word copy via e-mail.