Dwelling
Memory, Architecture and Place at Forest Hills Cemetery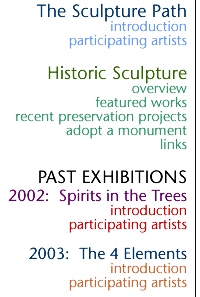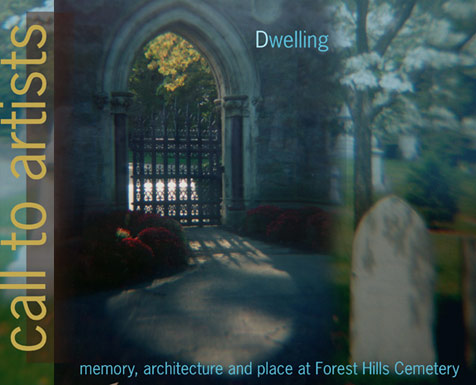 ATTN: WALK THROUGH ON SATURDAY, OCT. 15 CANCELLED DUE TO WEATHER, AND RESCHEDULED TO SATURDAY, OCT. 22 FROM 10 AM TO NOON.
Meet at the Main Gate.
DWELLING
4th exhibition of site specific sculpture & installation
at historic Forest Hills Cemetery
CALL FOR PROPOSALS
The Forest Hills Educational Trust invites artists, architects, and landscape architects to participate in Dwelling: Memory, Architecture and Place at Forest Hills Cemetery. This juried outdoor exhibition will consist of temporary site specific installation work and sculpture set into the landscape of Forest Hills Cemetery, a magnificent 19th century garden-style cemetery and arboretum in Boston, MA.
The exhibition is scheduled for 6/15/06 to 10/31/06. We invite proposals responding to the cemetery's architectural treasures, its Victorian role as an extension of domestic space and a final home, and its importance as a place for contemplation and reflection. We encourage imaginative interpretation of the theme and hope to present work which is diverse in conceptual approach, materials, scale, and design.
The word "dwelling" carries two complementary meanings. On the one hand, a dwelling is a tangible physical structure, a home. On the other, dwelling is an internal process of lingering reflection, a private pattern of thought or emotion. We dwell on the past, on memories or in our emotions – all of which are intangible.
Forest Hills Cemetery is a place where the two meanings of dwelling are brought together. It is a built environment rich with architectural forms which mirror the mansions, churches, banks, and townhouses of 19th century Boston. It is also one of Boston's first large scale parks, a romantic retreat designed to offer visitors "a place apart." This evocative environment, separated from the pressures of daily urban life, was constructed to help visitors slow down and focus on their thoughts and feelings.
Please download a pdf of the complete guidelines and application form. Proposals are due on November 30, 2005 (postmark).
Stipends
Selected artists will receive a stipend of $2,500, which includes all materials.
The Jury
Proposals will be selected by a jury after an initial review by the Trust's Exhibition Committee. The jury for our 2005 exhibition consists of: Robert Campbell, Pulitzer Prize-winning architecture critic for the Boston Globe; Pieranna Cavalchini, Curator of Contemporary Art, Isabella Stewart Gardner Museum; Carole Anne Meehan, Vita Brevis Director, ICA Boston; and Doug Reed, landscape architect and principal of Reed Hilderbrand.